The Boardwalk Chapel has left a lasting impact on many lives.
Many different kinds of people have had their lives touched by the ministry here. Maybe it was a brief moment on the boardwalk, a tract rejected in a split-second decision. Maybe it was a minute spared to read the verse written on the front of the Chapel—John 14:6— "I am the Way, the Truth, and the Life," said Jesus. "No one comes to the Father but through Me." Maybe it was a Gospel conversation between a staff member and a lost sheep, where the Holy Spirit began a work in the heart of a prodigal child of God.
It's fair to say that some of the people who are most impacted by the ministry are the people who come and serve here. As powerful as the witness on the boardwalk is, and as true as it is that God does indeed use the evangelism we do to save souls, some of the awesome work God does is in the hearts of the people who represent the Chapel on the boards. Staff or youth grouper—if you've served at the Chapel, you know what that means. While we are already and every day, instruments in the hand of God, there's something about telling people about him that is relentlessly sanctifying. That's not to say the Chapel is the be-all and end-all Christian goal for life. That's not the point. The point is that you do go home, life does go on, and it shouldn't be the same.
For Danny Dieckmann, who served on staff each summer from 2013 through 2015, the Chapel was spiritually a blessing—as well as the place he met his wife, Alexandra. "I don't know the man I would be without those three summers, but I can imagine it, and I prefer this version. It's really good, really quick growth. That's kind of cheesy, but it's the fast track to sanctification just because of the nature of it. You're evangelizing every night, you're around Christians that are encouraging you to be in the Word, to fight back against the world, the flesh and the devil—it's not always easy, but you have a support system. You have such a strong purpose of going out there and proclaiming God's word every night. And the growth, the growth that comes with that. I would definitely be nowhere near the man I am today without that growth."
God's power and faithfulness aren't only a reality in Wildwood, New Jersey. Tom, one of our evangelism interns, gave a devotional at dinner to the rest of the staff, in the stillness of a late summer evening at the Dunn house. He spoke on the truth that God's goodness and mercy will follow the believer all the days of his life. When staff depart from the ministry here, it is hopefully in gratitude and not discouragement. Thankful for the time here, thankful for the things learned, thankful for the chance to teach them to home congregations. At the end of the day, the Boardwalk Chapel is the training ground.
Olivia Falasca has been coming to the Boardwalk Chapel for her whole life with her youth group, always contributing her musical gifts. "Why do I keep coming back? Because at the end of the day, evangelism is what we're made to do," she said. "We're made to evangelize in every area of our life. We evangelize to ourselves through the Holy Spirit that works in us and sanctifies us, and that's evangelism because we're constantly reminding ourselves of the Gospel and the work that the Lord has done for us. We evangelize to our kids because the Lord tells us to, and because they need a Savior as well. I keep coming back because it strengthens my faith every year. I learn what it is I believe and why I believe it, and I'm able to defend that better and better as I mature as a Christian, and am able to erase doubts that the Devil tries to put in my mind. And I'm able to fight off temptation more quickly, because the Spirit is strengthening my faith and my walk with the Lord."
Evangelism is one of the primary lessons staff have learned at the Chapel. The Chapel is a training ground, to get you comfortable with sharing your faith in whatever capacity God has you, even if it's not cold street evangelism.
"The main thing I take home is how to have those conversations in a bold, confident, yet loving and gentle way with unbelievers, whether they be strangers or friends," said Luke Repass, who has been coming with his youth group every year for almost a decade. "That helps me. I go to college; it prepares you for those countless conversations you have, not just every once in a while, but on a frequent basis."
That's the obvious way the Boardwalk Chapel impacts people. Luke isn't the only one. "When I first came, I knew I wanted to do the cold evangelism in my heart, but it was very difficult for me. And I felt sick to my stomach every time we had to go out," said Isaiah English, who served on staff for three summers, starting in 2013. "It took a couple summers for me to really get into my groove, so to speak. I would say that now God has really grown that gift in me. That, for me, is becoming more and more my favorite part. It's so interesting how the Chapel has just been a part of my growth in grace. Dr. Krabbendam says that evangelism is part of your sanctification. The longer I'm a Christian, the more ways I see that it's true. I wouldn't say that I've found a lot of opportunities around in my daily life to go do cold evangelism, but certainly it gives me a wealth of experience to draw on as I talk to people in the interactions that I do have." Isaiah is now in seminary.
Alexandra Dieckmann feels similarly—the training at the Chapel has better equipped her to talk about the Good News in her different workplaces. "I felt like I was more equipped to talk to people in everyday life about the Gospel. I've done a lot of different jobs—I've been a journalist, I've been a flight attendant, different things in the secular world—and without having gone through two summers at the Boardwalk Chapel, I feel like I wouldn't be as well equipped to talk about the Gospel in those career fields, or everyday life."
God is faithful. He's faithful to his children, and he's faithful to his church. He's sovereign over all things. He governs the paths of everyone, he governs the ministry of the Boardwalk Chapel. He brings people in, and he sends them onward to new mission fields, where they can serve him in what may sometimes feel like less important ways. But the reality is, they're not less important. Some callings are humbler than others, it's true. However, that doesn't mean there aren't ways you can learn, lessons you can take away and apply from the Chapel to your ordinary life.
"Normal life—that's culture shock too," said Danny. It can be difficult to go back home from the environment of the Chapel. "You go back to your non-Christian friends who are dropping F-bombs every other sentence… it's hard to fight against those things. When you get back to the real world, so to speak, I feel like you go to what you've learned and ask, 'Okay, what were things that helped me at the Chapel? Well, reading the Word every day, and being in good habits. Doing devotions every day.' As I grow older, I need to lean back on the practices that I learned at the Chapel of listening to a single chapter. Something I do every single morning is listen to Psalm 1. That helps get me in a kingdom mindset and set my mind straight. If I don't do that, my mind is not in a kingdom mindset. I'm just thinking with my lizard brain, so to speak, and just trying to put my head down and get through the day, not thinking about God. That's a practical thing that I do that I feel like I learned from my time at the Chapel—making sure that I have even a little bit of God's Word every day."
When you are doing ministry, you realize the importance of being saturated in God's Word and prayer every day. That's one takeaway Danny and Alexandra both had from their time at the Chapel. We need to be thirsty for our Shepherd's voice.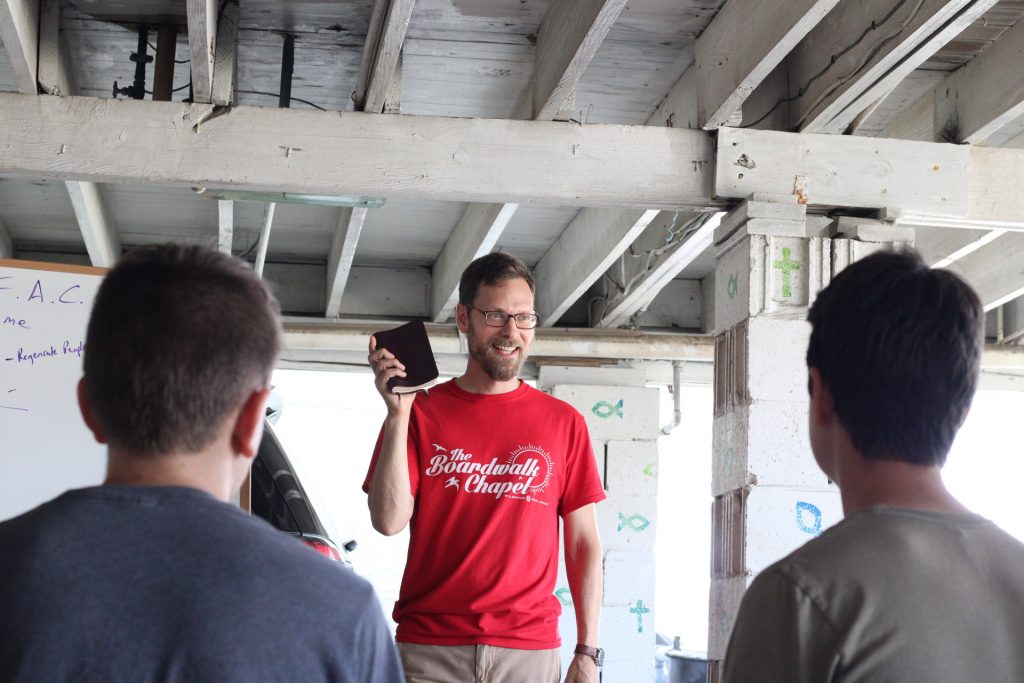 In the end, we may never fully understand everything God is accomplishing in us, whether that's at the Chapel or elsewhere. "I really think that it probably has affected me in lots of ways that I don't even know," said Isaiah. "It's strengthened my prayer life, it's strengthened my Bible reading, but I think most importantly it's made me more comfortable talking to people in general about the Lord."
Praise God!