The Boardwalk Chapel provides a unique opportunity for the saints to serve Christ on the Boardwalk of Wildwood, NJ. Through in depth evangelism and apologetics training, staff are equipped to share the gospel and gain invaluable experience by engaging in evangelism daily in Wildwood. During the summer, staff live and serve within an uplifting and intimate community in which they experience rich fellowship, encouragement, and spiritual growth. The staff spend their summer doing ministry and are also able to explore and enjoy the beautiful beaches of New Jersey and all that Cape May County has to offer. Read about what a summer serving at the Chapel looks like and the lasting impact that it has had on lives! Additionally, for those in college, read about the benefit it is to those who spend a summer with us.
Application Information
At the Boardwalk Chapel, staff serve on specific teams that allow them to use their individual gifts to build the Kingdom of God.
Evangelism Team
All staff receive evangelism and apologetics training and are involved in evangelism. Evangelism team members receive extra training and specifically learn how to lead evangelism teams in conversation with Chapel visitors and people on the boardwalk. Young men may also have the opportunity to lead devotions and gain experience in preaching during the programs.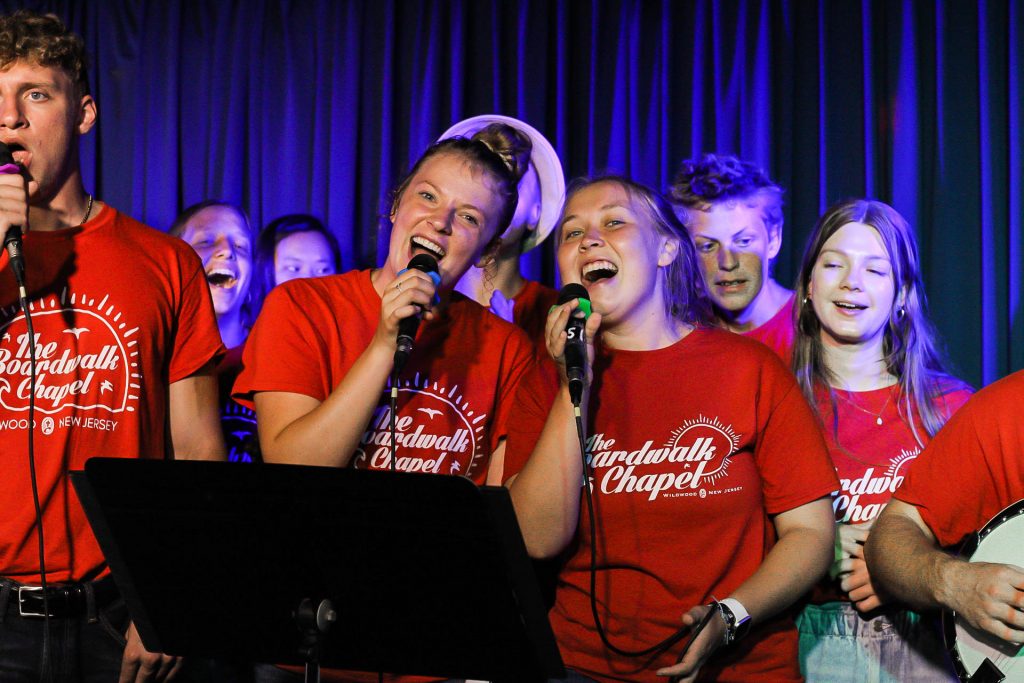 Music Team
Music team members receive training in evangelism and apologetics, and are involved in post-program evangelism. They also learn how to use their musical gifts evangelistically by performing in the nightly programs. Music team members ordinarily take part in daily rehearsals to prepare for the programs. The music team is made up of individuals who can sing in parts, and/or can play guitar, lead guitar, bass, percussion, keyboard, or other instruments.
Domestic Team
Domestic staff primarily work at the staff home and assist their coordinator in cooking, baking, cleaning, grocery shopping, and generally taking care of the home and Chapel apartments. Domestic staff are able to take part in evangelism and apologetics training. They also can assist with daytime events, evening program activities, and evening evangelism.
Drama Team
Drama team members receive training in evangelism and apologetics, and are involved in post-program evangelism. They also learn how to use their acting talents evangelistically by taking part in daily rehearsals and performing gospel-themed skits in the nightly programs.
Types of Staff
Full-Time Summer Staff: (10-12 weeks / Cost: TBD)
Full time summer staff receive all of the training offered by the Boardwalk Chapel to prepare them for the ministry. They engage in the daily and nightly Chapel activities, and are able to join a specific team to serve on. Staff typically raise support, and are encouraged to raise additional funds to receive back at the end of the summer. Full time staffers are expected to be present at the initial training weeks in the beginning of the summer but are able to get a day job in Wildwood to make extra money. They have the day to work and are required to be present from 5:30PM untilmidnight for dinner, our nightly programs, and evangelism. Those who are interested in working are encouraged to be on the evangelism team, as this team allows for the most flexibility.
Junior Staff: (4 Week Iterations / Cost: TBD)
This four week position is design specifically for those who are 16 (turning 16 the same calendar year they will be on staff) or 17 years old, and want to serve on staff. We have two iterations for junior staff, June 22 – July 20 and July 27 – August 24. There are a limited number of slots available for each 4-week program. Junior staff will participate in daily evangelism training and music practice with the church groups, participate in our nightly programs, and evangelize.
Visiting Staff: (Per week / TBD)
Guests can come and visit one week at a time, participate in evangelism at the Chapel, and experience the wonderful ministry. Visitors are able to join one of the teams for the week that they are there.
Application
Application Link for New Volunteers: Please Click Here
Are you a return Volunteer Staff? Click Here!
For the Parent/Guardian of Minors Only
Minor Permission with Medical in PDF Form