This is an intensive one week missions trip at the Boardwalk Chapel for church groups consisting of youth, young adults, and families. Church groups receive training in evangelism and apologetics, and participate in evangelism throughout the week, equipping them to share the Gospel. The groups work alongside our summer staff, assisting in nightly programs through prepared music, Gospel skits, and short preaching segments. Through this missions experience at the Chapel, church groups will grow in knowledge and love of the Lord, their love for the Gospel, and greatly strengthen their fellowship with one another.
Cost: $4,000. Flat rate for any sized group. Covers housing for the week.
Fill out our application to reserve a week for your group.
Please have everyone coming with your group fill out our Photo Release Form
Summer 2024 Openings:
June 8 – June 15 (Defining the Faith Training Week)
June 15 – June 22 (Defending the Faith Training Week)
August 17 – August 24
Summer 2025 Openings:
Week 1: June 21-28
Week 2: June 28 – July 5
Week 3: July 5 – July 12
Week 4: July 12 – July 19
Week 5: July 19 – July 26
Week 6: July 26 – August 2
Week 7: August 2 – August 9
Week 8: August 9 – August 16
Week 9: August 16 – August 23
In a time where many accuse Reformed people of not being evangelistically minded, the Boardwalk Chapel has been doing this for decades upon decades. It's good to see what that looks like if you haven't seen before—and a lot of our students simply haven't. If you're wondering: what does this look like? How will this impact our outreach ministry at our church? See a unique way that can be done in Wildwood New Jersey. I highly recommend churches in the West Coast consider doing this.
Eddie Mercado | Leader, Harvest OPC California
It changes the dynamic within the youth group. All of a sudden everything is more Christ-focused when you're here, and when you leave. It gets carried out into life outside the Chapel. The Boardwalk Chapel, every single year, immerses you in Scripture and in prayer. It puts you face-to-face with the cross. The main thing I take home is how to have those conversations in a bold, confident, but yet loving and gentle way with unbelievers– whether they be strangers or friends.
Luke Repass | Youth Group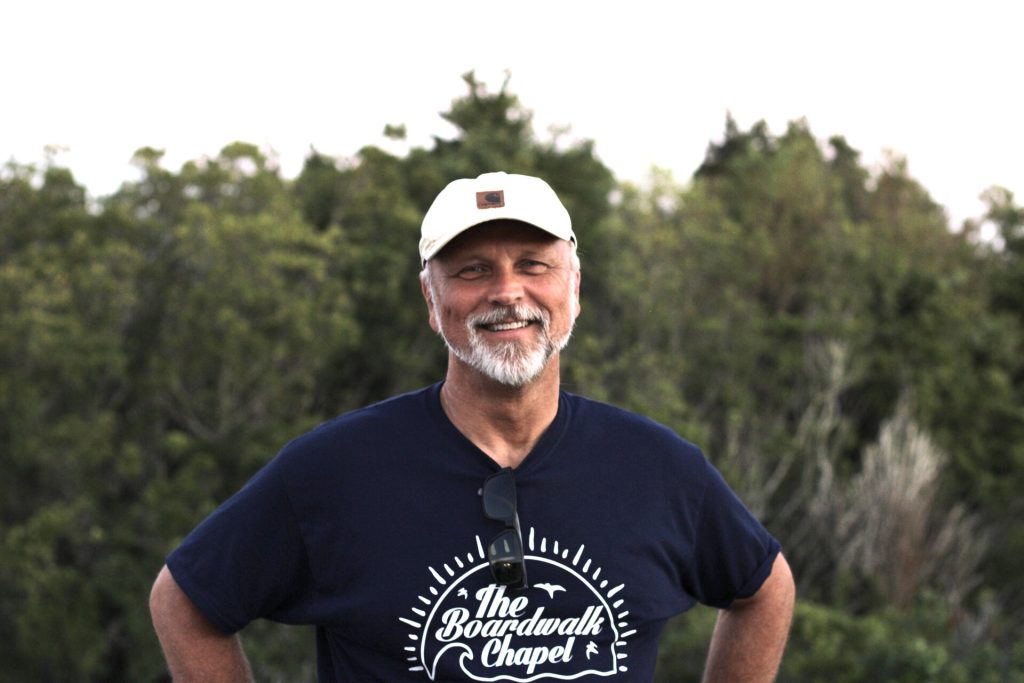 One of my favorite things about being at the Chapel is seeing our young people needing to testify to what they say they believe. To really be able to articulate it, to be able to talk to strangers about it. That's one of the really neat things. And meeting other Christians, meeting other people who are at least on the same page, have the same passion. I love that.
Ken Klett | Leader, Covenant PCA, Michigan
Coming here, taking time out of your summer to saturate yourself in God's Word, with godly people who are sharing the Gospel—I think it's really awesome. It can definitely be hard at times, but I think this is an amazing opportunity. I keep coming back because the first year that I came, I was really shy. But God has given me a gift to evangelize that I didn't even know I had. God has shown so much mercy and love to me. He has given me these amazing conversations that I never thought I'd have.
Hannah Smiley | Youth Group
My favorite part, even though it's the hardest part, is the evangelism. It's something I need to grow in. It's eye opening to see the sin in this world so clearly on the boardwalk, and then the need for sharing the Gospel. It has really touched me, more than I have ever been. God has opened my eyes in a new way this year through evangelism. I would say it is a great way to grow in something that so few people know how to do. Even if it's scary—because it definitely is scary—it's really needed. I'd really encourage anyone to come.
Claire Vanderwey | Youth Group
One of my favorite things about being at the Chapel is just having the opportunity to do evangelism. I've been on five other mission trips that were work-based. We were able to do VBS, but it didn't really focus on evangelism: teaching the Gospel and things like that. Proclaiming the Gospel gets you out of your comfort zone and it doesn't feel good, but you walk away completely changed, which I think is so beautiful.
Addam Jongekryg | Youth Group